Mystical Ecstasy Retreat Connecticut (Single Room)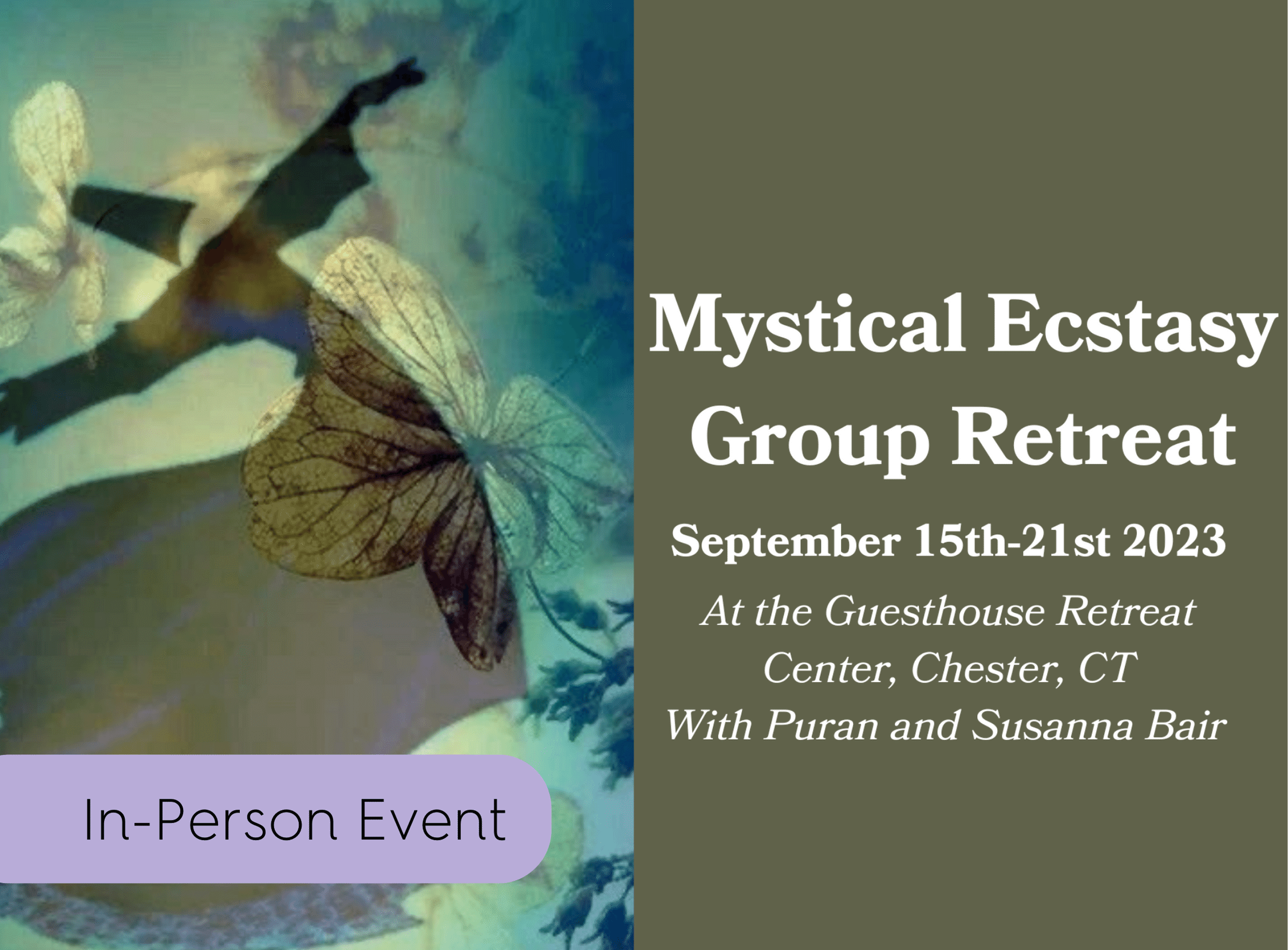 About Course
September 15th-21st, 2023
The Guest House Retreat and Conference Center, Chester CT
with Puran and Susanna Bair
Daily Times

Daily Events

6:00 – 6:45 AM

Sunrise Meditation & Walking Meditation
with instructions

7:00 – 8:00 AM

Morning Meditation, by Susanna or Puran

8:00 – 9:00

Breakfast

9:00 – 10:30 AM

Heart Rhythm Meditation, guided

10:45 –

 

Noon

 

Sound Practices, guided by Susanna

Noon – 1:00 PM

Lunch

1:30 – 2:30 PM

Check-in about your experience so far, in four groups

2:30 – 3:00 PM

Movement practices

3:00 – 3:30 PM

Presentation about Zikr, by Puran

3:30 – 4:30 PM

Practice of Zikr and meditation, guided by Puran

4:45 – 6:00 PM

Meditation in four groups

6:00 – 7:00 PM

Dinner

7:00 – 8:00 PM

Evening Program: Singing iamHeart songs, whirling, dancing, initiations, and possibly a fire-walk.
This retreat features the experience of Zikr: the classic Sufi practice of Remembering the infinite, eternal reality of your perfect Self.
The types of Zikr we will use include:
The Full Zikr, The Positive Zikr, The Bowing Zikr, The Third Form Zikr, The Zikr of Presence, The Zikr of Love, The Zikr of Freedom, The Zikr of Ecstasy, The Zikr of Power, The Zikr of the Sun, The Zikr of Eternity, The Zikr of Rasul
Mystical ecstasy is a state of consciousness that goes beyond the ordinary experience of the world. It's a feeling of unity with everything around you, a sense of oneness with the divine, and a deep sense of peace and joy. People who experience mystical ecstasy describe it as a moment of transcendence, where they feel connected to something greater than themselves. This can be a powerful and transformative experience that can lead to personal growth, spiritual insight, and a greater understanding of the nature of reality.
If you're interested in exploring mystical ecstasy further, I would like to invite you to a retreat on the subject. This retreat will offer you the opportunity to learn more about mystical experiences, connect with like-minded individuals, and engage in practices that can help you access this state of consciousness. We'll explore different traditions and practices that have been used to cultivate mystical experiences, and you'll have the chance to experiment with these practices yourself. Whether you're a seasoned spiritual seeker or just starting to explore your spirituality, this retreat will offer you a supportive and transformative environment to deepen your understanding of mystical ecstasy.

Retreat Center & Logistics
The retreat will be held at the 

Guest House Retreat and Conference Center

 in Chester, Connecticut, one of the most beautiful retreat venues we have found.  Enjoy the photos of the grounds and surrounding area.
Five days in-residence, starting with dinner September 15th at 6:00 pm with a session to follow, ending with breakfast at 8am on Thursday, September 21st and room check out at 10am. Our last session will be 9pm on Wednesday, September 20th.   
Generous rooms, nutritious meals, beautiful meeting rooms, and inspiring landscapes.
Retreat Cancellation Policy: If you cancel your enrollment in a retreat up to a month prior to the start date of a retreat, you will receive a refund of your full payment, including tuition and lodging costs, minus a $100 administrative fee. If you cancel your enrollment 14-30 days prior to the start date of a retreat, you will be charged 50% of the retreat lodging costs, and receive a full refund of retreat tuition costs. If we are able to assign your room to someone else, you will only be charged a $100 administrative fee. If you cancel your enrollment 13 days or less prior to the start date of a retreat, you will not receive any refund on your lodging costs, and receive a 50% refund of retreat tuition costs. If iamHeart cancels a retreat for any reason, you will receive a full refund. We understand that issues arise, and we appreciate your thoughtful advance notice of any retreat cancellation.
Show More
Student Ratings & Reviews
No Review Yet